Saturday, May 07, 2005
Day 1 Road Trip
Today Steve and I packed up our twin toddlers, Catherine and Elisabeth, and an ungodly amount of vitally necessary stuff and headed to
Annapolis
.
We picked up "Winnie", our 24-foot-long Winnebago camper van in Annapolis, after waiting half an hour for the rental place employee to show up while there was no other employee that apparently knew anything; then got our mandatory orientation to all the systems and components on board. The RV has a good amount of storage and seems like it would be comfortable for our week on the road with 2 queen-sized beds, a full kitchen and dinette – if we didn't have to somehow fit in the two portable cribs for the girls.
I started driving first, heading east. Our first task was to get over the 4-mile Chesapeake Bay Bridge. Since the camper is 9 feet wide (mirror to mirror) and the lanes are only about 12 feet wide, it takes a lot of concentration to keep it centered in the lane. It's 12 feet high, so we were warned not to take it over any covered bridges when we get to New England. Other than catching the wind fairly easily, it seems to handle like any big ungainly truck.
Across the Delmarva peninsula over the eastern shore of Maryland (only about 30 miles from our place in St. Michaels, but we didn't stop) and east we went across the state line into Delaware on the 2-lane rural highway the Washington DC and Baltimore crowds take every weekend to get to the beach. The land is extraordinarily flat and the roads are straight and level with lots of little crosses by the roadsides. Although we have had a very cool spring, seldom remaining in the 60s, summer seems to be coming on strong and the trees are in full leaf and the winter wheat is well up.
Just after 6PM we pulled into Cape Henlopen State Park, a large sandy campground with pines and lots of sites with wide spaces on the side of the road where it was easy to pull off in our rig and park. While it seems big to us, there were several enormous bus-sized vehicles with multiple slideouts that dwarfed our vehicle.
Getting dinner and ready for bed involved some gymnastics, taking out the two carseats from the dinette, setting up the dining table, eating dinner and trying to feed two active toddlers who preferred to be running around, then taking down the table, making it into one big berth, and setting up two portable cribs on top and installing the girls in there under a series of raucous protests. Perhaps after a week in here we'll finally figure out a system that works well – until then it's all a little awkward.
Finally we're settled in for the night and the campground is quiet. The only sounds we hear are Elisabeth's whiny protests from her crib about how badly her parents are treating her.
Steve (the sailor) likes the fact that we don't have to worry about anchor lights, the camper won't sail around the anchor and jerk it in the middle of the night, and we don't have to get up in the night periodically to check the anchor to be sure it's not dragging. Today was his birthday - I'm afraid it was too hectic for much celebration to take place, but Happy Birthday, honey!

Friday, May 06, 2005
Here's to strong women
I love this idea!!!
A wonderful series of photos that I think both our male and female readers should enjoy was started by
Doc Shazam
with this one (oops,
incorrectly identified
as
Wendy Ingraham
,
Wil
correctly identified her as
Jessi Stensland
):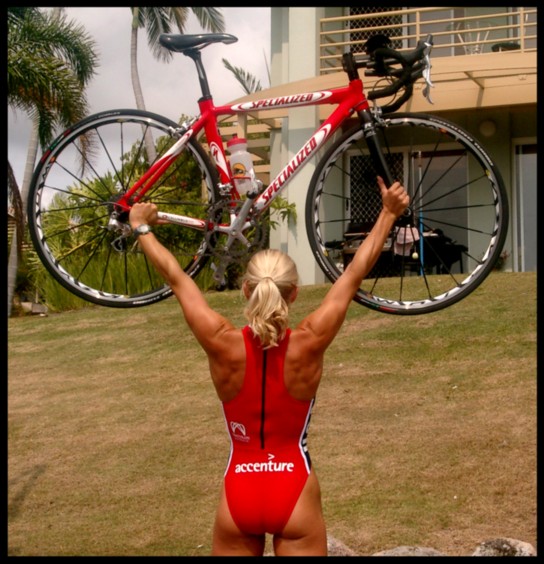 Which apparently spawned an imitation from
Olympian Sharon Donnelly
(aren't these triathletes' back muscles amazing?):
How great are those!? I think we should
all
post photos like this and make a roster of
Tri Blog Alliance All Stars!!
I'll volunteer to put them all on a web page, if you leave me a comment here with the address! The nice thing is that even the
anonymous
bloggers can join in, because no faces are seen. I'll have to remember to get one with
Buttercup
when I return home. I'm heading out tomorrow at noon. I'll try to check in
from the road
with my laptop if I can catch a wi-fi signal - if not, I'll probably post a painfully long travelogue when I return.
Thursday, May 05, 2005
Bag O' Lynx
Today's workout:
2.5 miles on the treadmill, including 0.5 miles at 2% grade at a 10 min/mile belt speed. It felt HARD. Then 1000m in the pool where I practiced bilateral breathing and some arm entry and pull techniques suggested by the first of my recommended reads, below.
Links to a few online resources which I found helpful recently in my tri-training:
Propulsive Swimming and the Catch
, by Rich Strauss
Race Rehearsal Guidance for Ironman
, also by Rich Strauss
Karyn's Climbing Tips
, on
Life Is A Tri Blog by Steve Davis
Ironman course bike profiles
and
Ironman course run profiles
, all of which scare me
Convert-me
, an online metric-English-metric converter that I use a lot and everyone who is as obsessive about numbers as I am should bookmark
I'll pass along more goodies as they come my way!
Cold water swims = hunger
In
a recent University of Florida study
, student volunteers ate
44% more calories
after exercising in cold water than after exercising in hot water.
Lessons
for those of us hoping to lose body fat?
Swim in hot pool water or use a wetsuit in cold water.
Don't count on cold-water swimming for weight loss, or track your food intake closely after each cold water swim.
Do those hot, sweaty running and cycling workouts for weight loss.
Forget the rules after a race and eat as much as you want for as many hours as you ran in miles. It's your reward. This does NOT apply to regular workouts, only to organized races. This has nothing whatsoever to do with the study, I just think it's a good training principle. :-)

Wednesday, May 04, 2005
IMFL vs. IMMOO? No contest!
Some miscreants in the Tri-Blog Alliance have been making scary references to Ironman Wisconsin (IMMOO) in September, 2006 in preference to Ironman Florida (IMFL) in November, 2006. It's high time we put a stop to this nonsense.
Let's take an objective look at the
Top Ten Reasons to do IMFL instead of IMMOO
:
10.
Friends and relatives can travel too. They will if they know what's good for them. Friends and relatives will like the Florida Gulf coast in November much better than the middle of Wisconsin in September. They're not stupid.
9.
Panama City in Sunshine State
vs.
Madison in "Eat Cheese or Die" state
.
8.
Buoyant salt water on shallow warm beach course vs. cold pond scum.
7.
Flat vs. Hills
.
6.
One loop bike course vs. two loop bike course. (Which I personally usually find very boring).
5.
Two more months to train.
4.
Two more months to save up registration money.
3.
83/2116 DNFs in 2004 (3.9%) vs. 212/2187 DNFs in 2004 (9.7%). That is, you're 2.5 times more likely to finish at IMFL and become an IRONMAN.
2.
Faster finishing times by 20-25 min. based on course records: 8:21 M/9:26W vs. 8:46M/9:46W. Plus bragging rights!
1.
The supportive presence of the members of the
TRI BLOG ALLIANCE
!
Special vibes
Special healthy healing vibes going out today to my good friend Holly, triathlete and
cyclist extraordinaire
, who is undergoing surgery today.
She has just started a new blog,
TRIandbehappy
, which inspires me and which I know will be a help and inspiration to her fellow cancer survivors. Why not stop over there and offer her a few comments?
Holly, I hope your recovery is fast and easy, the biopsies are unanimously NEGATIVE, and the two or three remaining cancer cells (IF ANY) DIE a quick, miserable death, like the stinking weasel bastards they are.
Tri-mom Squared does IMFL2006?
That's my new nickname bestowed by the
Tri-geek Kahuna
. I love it! Perhaps we can ask the
Kahuna
and/or
Head Doc
to provide us each with our own personal training mantras as well?
It looks like the movement towards the
2006 Ironman Florida (henceforth known as

IMFL

)
is gathering steam among the blogging triathletes.
Kahuna
has a lineup of at least eleven who are planning or will be arm-twisted into entering. It is SO much more fun and helpful and motivating to train with a group - and for me often stuck at home, those groups are usually online - so I'm becoming enthusiastic about participating with this bunch in my first attempt at becoming an
IRONMAN
.
(Editorial aside: As a long-term proponent of gender-neutral language, I have long thought about the term Ironman and whether we should apply it to women. While I would like something which conveys the magnitude of the accomplishment that is more appropriate for female people, my friend
Beth
the Iron_Chick made the point that the women go out and do exactly the same course as the men in the same conditions and under the same time limits - and so should rightfully be granted the same title.)
My
only
major niggling doubt right now about IMFL (naturally, with a good head on my shoulders, I have a multitude of minor niggling doubts about setting off on such a colossal venture, they crop up like
tribbles
) is whether I'll be able to get my entry in before it closes. You see, on entry day November 6, 2005, I will be enjoying
a little jog through the five boroughs of New York
with 34,999 of my closest friends. Hopefully I can get someone to submit my entry for me, because these
"m-dot" events
fill fast. Plus I have a few
little
preliminary events to complete and some
minor
touch-up training to fine-tune my performance before I go. And maybe I'll even get to the point where the whole idea of going 140.6 miles under my own power in less than 17 hours doesn't scare me shitless.
HERE WE COME - THE TRI-BLOG ALLIANCE! BEHOLD OUR MIGHT!
Tuesday, May 03, 2005
Ironman Emmy
Not only was it good for triathlon, it was good for NBC too!
The NBC coverage of the 2004 Ironman won an Emmy
! (It doesn't make me like narrator Al Trout Wig any better, based on his truly crappy Tour de France coverage, but I'm happy to see the sport get some recognition).
OUTSTANDING EDITED SPORTS SPECIAL:
THE
WINNER
IS:
Ironman Triathlon World Championship
- NBC - Ironman Productions
Executive Producers: Dick Ebersol, Ben Fertic, Tom Roy
Producers: Peter Henning, Rob Hyland
Senior Associate Producers: Eric Begley, Kerry Ryan
Associate Producers: David Beld, Cathy Driscoll, Chris Gurr, Diana Kane, David Karabinas, Kit Martin, Fred McGraw, Peter Rogaris, Tara Sherman, Jeff Shook, Al Trautwig, Angus Yates
Lynndie, Jennifer, and Martha
Digressing for some editorial comment....
Three women in the news lately -
"Leash Lady" Lynndie England
,
Martha Stewart
, and
"Runaway Bride" Jennifer Wilbanks
seem to me to have some things in common: a disconnect from normal standards of behavior and a failure of character by not assuming full, active, conscious responsibility for their own actions and the effects of those actions on other human beings. I follow their stories hoping to see some genuine acknowledgement by each of them of the damages each has created, but I have yet to see it.
This is certainly not unique to them - we all know people very well in our own lives with these same characteristics. It's an interesting morality play taking place on the media stage, however.
Martha
, it seems, after completing her prison time and house arrest sentence, will only be parlaying her increased notoriety into more business deals, not living with the consequences of felony convictions that mere mortals must.
Lynndie
faces 11 years in prison, probably serving in part as a scapegoat for negligence of her higher-ups.
Jennifer
may receive a felony charge of false statements and may be required to deal with the $40,000 - $60,000 costs of the needless search for her.
We athletes like to think that our training and commitment carry with it some kind of moral discipline, but I don't think that there is a crossover effect. Workouts simply help make you more physically fit - they don' t make you a better person or more ethically or morally fit.
Case in point (from
www.marathonguide.com
):
Chicago Marathon


10/13/02

Wilbanks, Jennifer (F29)

4:26:38

15616

4602 / 1124

F25-29

4:16:47

Gainesville, GA
Jennifer must have carefully planned and prepared for her marathon in Chicago in 2002 just as carefully as
she planned her bus trip to Albuquerque
and her kidnapping hoax. Perhaps her particular skills and personality traits served both purposes.
Tuesday workout
Today's workout.
I thought I needed a little running challenge (after
blowing off my half marathon on Sunday
) so today (so far) for starters I did half-mile repeats on the treadmill at the club. I also played around with the grade to vary intensity:
0.5 mile walk warmup at 20 min/mile, 2% grade
0.5 miles at 12 min/mile, 2% grade
0.25 mile recovery walk at 20 min/mile, 2% grade
0.5 miles at 10 min/mile, 0% grade
0.25 mile recovery walk at 20 min/mile, 2% grade
0.5 miles at 12 min/mile, 2% grade
0.25 mile recovery walk at 20 min/mile, 2% grade
0.5 miles at 10 min/mile, 0% grade
0.25 mile warm-down walk at 20 min/mile, 2% grade
Normally a 10 min/mile pace outside is really pushing it for me (
my 5K PR is 31:30
) but it felt relatively easy at 0% grade after the previous work at a 2% grade. I know it's not the same work intensity as a 10 min/mile pace outside, since you're not working against air resistance, but at least my legs were moving that fast for a brief while.
Then into the pool, after 3 quick sets of crunches! 1000m at an easy pace, varying my strokes. I particularly concentrated on breathing on the "wrong" side for me (which involves a lot of sputtering and water up my nose, since I'm totally uncoordinated in that direction) but it DID prevent any of the
one-sided back pain that I had experienced
from breathing only on one side. I'll have to continue with this bilateral breathing work. I'd like to get to the point where I can breathe comfortably on either side, or alternate breaths on either side, because I hear that kind of versatility is very helpful in open water swims where the waves may be coming from either side, and one-sided breathing can tend to make a person veer off course.
Yesterday I did 45 minutes on the bike trainer (planned for 60, but I put it off for too long and it finally got too late to complete - funny how that happens when I procrastinate) and did a few sets of crunches. Catherine decided it was fun to sit on my chest while I was lying on the floor trying to do crunches. That made them somewhat more difficult.

I still plan to do 45 minutes on the bike trainer later today (up from the original plan of 30 minutes) to continue on my Five Days of Consistency.
Monday, May 02, 2005
Triathlon blogs
I'm always on the lookout these days for good-quality, well-written blogs written by triathletes, cyclists, swimmers, and runners. They don't have to be elite athletes - in fact, I find it more helpful to read about the struggles of everyday people much like myself, who are juggling fitness along with other important life priorities and motivational challenges. Following them along is like watching an ongoing reality show. They inspire me to have a little more energy in facing my own personal challenges.
In my searches I run across a lot of abandoned blogs with ambitious titles like "IronmanbyChristmas" or "FromTubbyToTourdeFrance", with 3 or 4 posts, petering out to nothing. I wonder about these people - did they get psyched up for a few weeks and then abandon their grandiose schemes, or did they just get tired of blogging? They make me sad.
I also see lots of blogs that are simply a dry listing of workouts - miles or kilometers, yards or meters - with little personal perspective. These may be helpful for the writer, but the numbers from some anonymous person's workouts do not make compelling reading.
My
Questions of the Day
are these:
What triathlon/fitness blogs do you especially like (OTHER than those already in my list on the righthand side of this page)???
What triathlon/fitness blog features keep you reading and coming back for more?
What triathlon/fitness blog characteristics turn you off and make you stop reading?
After I mull over your responses a bit, I believe I will cull my list of "Fellow Athletes" to the right to limit it to a list of blogs and websites that are my regular reads that I wish to recommend to others. I'll also use your feedback to fine-tune my own blog content and ramblings here a little. Thanks!!
Monthly summary
I'm going to follow the excellent example set by
esteemed fellow bloggers Dawn
,
Linda
, and others and start publishing my monthly summaries and goals. Readers may want to skip these posts, but I find that a hard, public, "no excuses" look at the numbers helps keep me honest and committed in my training, which otherwise tends to be somewhat invisible (other than in my personal Excel workout log and my race results). The ultimate goal is to do more on a regular basis than I currently tend to believe is possible.
For the sake of accuracy in reporting, I should note that my cycling mileage includes both outdoor and bike trainer miles, and running mileage includes treadmill and outdoor running and some walking.
April totals
Swimming: 5846 yards (5346 m)
Cycling: 109 miles (175 km)
Running: 50 miles (80 km)
Included: Completed 1 sprint triathlon, 1 ten-mile race
May goals
Swimming: 6500 yards
Cycling: 150 miles
Running: 65 miles
Include: Complete
five consecutive days of double workouts
; 10 days on vacation
(to be truthful, I'm not sure this is compatible with the swimming and cycling goals)
; then
my first international distance triathlon
Body weight.
I haven't yet gotten to the point in non-anonymous blogging that I want to publish my body weight online, but maybe I'll get to the extreme point of adding that some day. :-) I do want to lose weight, though - suffice it to say that my ultimate nirvana goal weight is 59 pounds less than I weigh today.
Upcoming events.
I've also added a list of my upcoming "A" races in the right-hand column to help keep my
"eyes on the prize"
. Well, actually the
prize
is a healthy, happy, productive, active, long life; but being able to complete endurance events is certainly a fun bonus.
Sunday, May 01, 2005
DNS
I did not run the
half marathon
this morning that I had planned to. I did everything that I needed to do to prepare - got up at 4AM, caffeinated and dressed, drove to the race site, parked, and waited for the volunteers to set up. But it was pouring cold (49*F) rain the whole while, not letting up as forecast, and standing in line outdoors in the rain at packet pickup I got drenched, chilled, and started shivering. I decided that I just didn't want to run this race badly enough in these conditions, and that I would rather do today's workout inside a dry gym. I make no excuses - I simply didn't have the drive and determination that it takes to run a race on a day like this. I got back in the minivan and drove home.
Some place today there will be a runner who toes the starting line, struggles and completes her race, crosses the finish line, and receives her medal. She will get a third place among three in her age group, and will feel a little apologetic when she tells the tale, and will minimize her accomplishment as if she only got an award by default, since she didn't "beat" anybody.
To her I say,
"Well done and

congratulations!

You stuck it out and ran your race. You won over everyone else who didn't show up and wasn't willing to make the effort that you did. Today you beat me and you deserve to win. Enjoy your victory!"
---
Later....
Well, I didn't exactly get in a half-marathon-equivalent workout, but I did do 30 minutes on the bike trainer in the aerobars while watching the
Tour de Georgia broadcast
. Sometimes I try to maintain the same cadence as the pro riders while I watch them - fortunately they were climbing very steep hills and I didn't have to keep up with Lance's time trial cadence! ;)
This week's renewed goal is
CONSISTENCY
. Each day, Monday through Friday, I plan to do at least 30 minutes on the bike (trainer or outside) , plus a swim, run, or long walk with the double jogstroller. I'm counting on all of you to hold me to it! Fortunately the weather forecast is much improved - although it will only be in the sixties, it promises to be sunny all week.